Montessori Middle School Program
Call us to schedule a school tour!
(847) 498-1105
12 – 14 years old
Grades 7 & 8
Hours: 8:30 a.m. – 3:30 p.m.
Middle School
The Middle School is an unparalleled educational experience that blends a rigorous academic curriculum with real life undertakings that answer the age old question asked by adolescents, "Why are we learning this?" Students have myriad responsibilities that bring relevance to academic content including running micro businesses and working beside professionals from various vocational fields. Read more about our academic outcomes.
Day in the life of a Middle Schooler
Traditional home room is replaced with community meetings each morning during which the students and teachers consider the goals of the day and work collaboratively to decide what is needed to achieve them. Students are active and engaged. There is little time spent passively.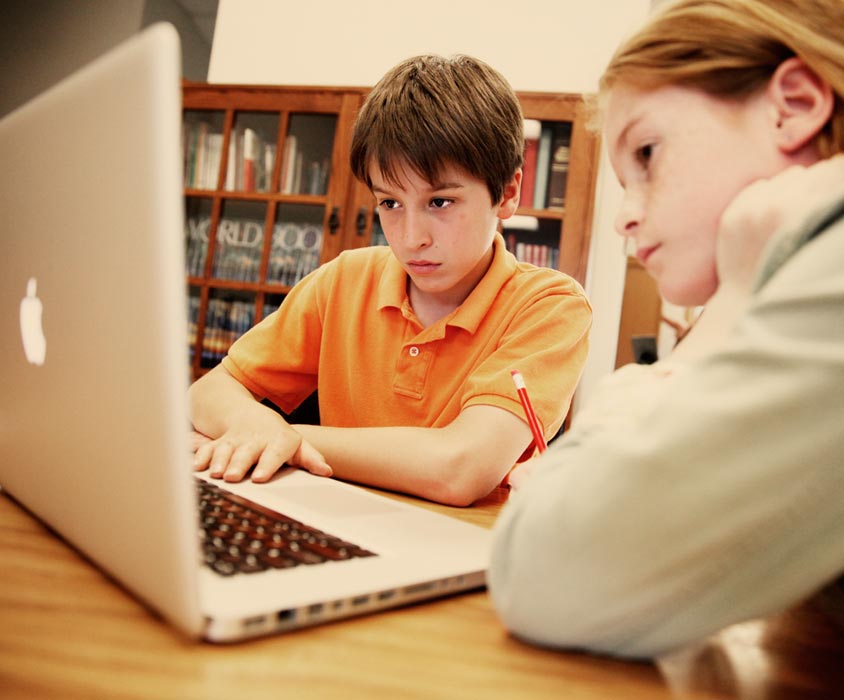 Middle School Program Details
The CDS Middle School provides adolescents a unique educational experience with three primary components: economy/community, traditional academics, and creative expression. Adolescence marks the beginning of transition from childhood to adulthood, and the start of physical and mental maturation. It is an age of great social development, of emerging critical thinking and value formation, and a period of self-reflection.
Athletics/Extra-curricular
Countryside Day has a unique relationship with the North Suburban YMCA and Northbrook School District 30 which enable our students to participate in a multitude of athletic, creative, and academic clubs and programs.
Middle School students participate in physical education at the YMCA with access to all of its facilities including basketball, racquetball, swimming, dodgeball, yoga, cardio and fitness training.
At Maple School, the local Public Middle School, students can participate in Athletics (soccer, track, etc.), Performing Arts, and other Clubs and Activities (debate, photography, band, orchestra, and many other programs that may interest them).
Economy/Community
At CDS the students' strong need to understand the adult world is addressed. Through managing micro-businesses as well as taking advantage of learning opportunities in the wider community, CDS students will come to understand the basic foundation of how an economy functions, how to manage money, how to direct others and take direction, how to take initiative, collaborate and persevere, and how to get a job done.
Traditional Academics
CDS adolescent students will have a strong academic course of study covering all areas of traditional curriculum. Subjects include math, writing, science, literature, Spanish, music, art, computers, history, and geography.
What is different, however, is how the students spend their time while in classes. Classes are arranged in a Block Schedule allowing for deeper and more interesting study than is achievable in the conventional 45 minute class.
Students learn best with a combination of direct instruction, independent work, and creative reconstruction of acquired knowledge. For the majority of the day, students are engaged in active, collaborative work further pursuing concepts that were introduced by their classroom. teachers.
In addition, many subjects are addressed in Socratic seminar format requiring active participation by all students.
The result of this approach is that students love to come to school, not just for the friendships and extra-curricular activities, but because they are excited about what they are learning. An added benefit of a school day that prioritizes active work and engaged learning is that the homework load they are encumbered with is dramatically less than in conventional educational settings.
Assessment
Middle School students are assigned grades for science, math, history and language arts. But assessment is conducted in various ways, only one of which is the traditional study-memorize-reproduce triad. Students are also assessed based on lab work, dramatic presentations, and content presentations to their peers. Our goal during the Middle School years is for our students to develop a healthy understanding of what grades represent.
Standardized tests produced by NWEA are administered and students score competitively with their peers on the North Shore. Many students are placed in honors classes when they transition into their next schools, but it is not the goal of CDS to make all honors students. The outcomes of a CDS education are far more ambitious.
Creative Expression
Creative expression is an essential component to adolescent development as students explore and experiment with their emerging identities. During the adolescent period, the developing personality has a natural predisposition to creative expression in many forms. CDS offers many opportunities for students to explore self-expression creatively through activities and performances which will include but not be limited to:
Music – styles and periods, history, music of other cultures, piano, singing, concert performances;
Creative Language – dramatic performance, literature, public speaking, Socratic seminars, poetry, creative writing, playwriting, song writing and debating;
Art – history, styles and periods, drawing, designing, mapping, painting, digital photography, and film-making.
By respecting and nurturing individual needs and abilities, we encourage the growth of autonomous, competent, responsible and resourceful citizens. Countryside's Adolescent Program provides opportunities for valorization: experiencing fulfillment by making worthy and valuable contributions to the school community and the community at large. The environment for the adolescents fosters economic independence within the school community, social independence and awareness, and a connection to the natural world. Countryside recognizes the special characteristics of adolescence, and designed its adolescent program to assist 7th and 8th grade students along their path to adulthood and mature responsibility.
A World-Class Academic Program Grounded in the Development of Character
For more information on our programs, please follow the links below: