Position Statement on Grades
Elementary School: Grades 1 – 6
During the elementary years, CDS does not use a grading system.
For the budding student, grading is the surest way to diminish inspiration and retard the development of self-assessment. Evidence of this effect can be found in the well-sourced book, Drive, by Daniel Pink. The joy for CDS children is in the learning itself. They are working and acquiring knowledge because they are excited by the possibility of how far they can pursue any interest.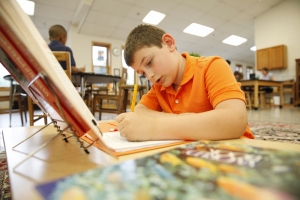 Rather than grade the children on how well they learned the countries of North America, after which it is clear there is no reason to go on, CDS children continue on to learning the countries of South America, Europe, Asia, and on and on. They ask for the opportunity to evaluate their own knowledge by testing themselves or making presentations to their classmates.
The teachers are in continuous contact with each child and solicit discussion about whether he or she is working up to potential, offering honest reflections and, and even occasionally, giving tests. Teachers give evaluative feedback to students on a daily basis. If a child is not working up to his potential, the teacher will express this clearly in a conversation with a child. This information is also shared with parents during conferences.
But the ultimate goal is for the child is to be asking questions of himself: "How much can I do?" (Not, "How much do I have to do?") And, "How well have I done it?" (Not, "Was it good enough for an A?") This sense of personal responsibility is the preparation necessary for competing in the 21st century. This culture of meaningful assessment is a cornerstone of the CDS experience, and is fully in harmony with our mission to help children become respectful, responsible and resourceful.
Middle School: Grades 7 – 8
By the time the children are entering Middle School, their relationship with learning has been established. They know that ultimately they are responsible to do the best job possible. They know that the choices they make regarding the integrity of their work have consequences for them and for those they work alongside. They know that their choices have an impact on the culture of their class.
=Middle schoolers should understand the benefits and dangers of external evaluation=
As they enter the middle school years, they are introduced to receiving grades as is the case in conventional school. Our goal, however, is to use the experience of grades not only for their transition into high school, but more importantly to help our students develop a potent and constructive understanding of the benefits and dangers of external evaluation.
Ideally this experience will allow a student to
use a grade to put himself in context with his peers
reconcile his self-assessment with an external, independent assessment
recognize that external assessments are not comprehensively defining
understand that grades can have an impact on future opportunities but do not define them
understand that there are both positive and negative trade-offs to focusing on grades
understand that grades can negatively impact authentic learning
The tools we have at our disposal to have an impact on the students regarding what is stated above are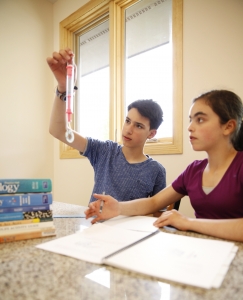 quantity of grades
weighting of grades to different aspects of school experience (not just assessment)
allowing extra work to extend learning and raise grades
not grading longer, more important works
balancing the school experience with academic work that is graded and other life experiences that are not
using self-assessment instruments
Our belief is that that external evaluation is not only a part of later school experience, but also part of many work environments as well. Evaluations can be excellent tools to help people see themselves and their contributions as others see them. A healthy relationship with external evaluation is one in which an individual can reconcile his own perceptions with those of others, and to decide what information is useful for him in his own personal and professional development.