Hear from our Alumni about the CDS difference
Our impact on students extends beyond their school years. Learn more about student outcomes and hear what our alumni have to say about the lasting value of a Countryside education.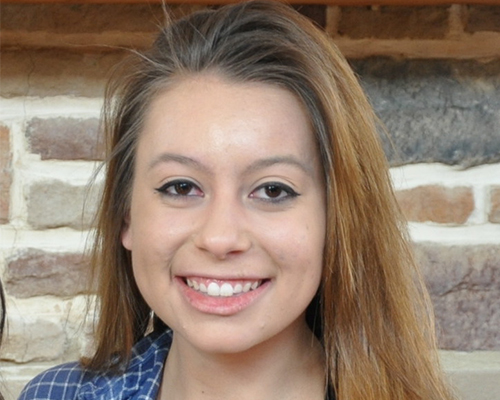 Jackie Cortopassi
Class of 2009
---
What are our graduates doing now?
Jackie attends Glenbrook South High School where she is a senior. In addition to her standard classes, Jackie is in AP Spanish and AP Literature. Jackie is in marching band and jazz band. Jackie participated in the Marrow Transplant Awareness Campaign and also started an Italian Cultural Club with a friend. Jackie is also a photographer for the Oracle, the school newspaper.
What is important to CDS graduates?
As a person I think honestly the reason why I am how I am is because Countryside made me a little different. There are a lot of people who have been growing up in the main, the normal schools. Countryside is just like a separate community that kind of pulls you out of that a little bit and puts you into something else and makes you different. So you have different experiences than everyone else. It gave me my own mind set. I'm not a follower or anything like that. I don't have a group of friends that I stick with. I just go to different groups of people all the time. I'm not clicky or anything like that, and I think this school made me like that.
What habits, skills, and character qualities do graduates trace directly back to their time at CDS?
At Countryside you were just like immersed in that leadership role so when I went to my next schools I wasn't afraid at all to get involved in different things, like being leader of a club. I feel like some of the other students don't have the courage sometimes. I was living that at CDS for two years being the leader, and having those positions was fun.
Actually the reason why I was in honors Spanish, I think, in middle school was because there was this test that you could take. If you got a certain score, you had to qualify for it. I remember the only people who qualified were me and a bunch of native speakers and another CDS grad, and we were the only ones who qualified because the Spanish here at CDS. I learned so much from it, and I still remember and so I went into honors Spanish. Middle school Spanish was just a breeze and so easy. So now I am in AP Spanish. The Spanish at Countryside was perfect.
When I went on to my next school, Math was easy.I got 100% in math. I remember at Countryside I was struggling with math. It was the hardest thing ever. Then when I went to Springman, it was just so easy, and so was Spanish. That was so easy. I could have gone directly to high school from CDS in Spanish and math.
How does the CDS Mission (Respect, Responsibility and Resourcefulness) still guide its graduates?
I always remember these three R's. I always remember these are just the best ones. Resourcefulness I just like because thinking on your feet and making good use of things and creating, I think it's the most useful. They're all important. Making good use of my resources. Like with my college applications, I had to persevere through that and with each essay you have to think on your feet. Going to Spain for a month with just one person I knew. You have to make good use of your education. You put your education to use in the real world.
What defines the CDS experience?
I liked having mixed age classes because you had the opportunity to help people. When you were younger you could learn from the older people. Like when I was a first grader and I saw the sixth graders, I thought they were the best thing in the world. They were there to help you and push you forward, and it really did help me.
I remember Mr. Calise, he thought that I would never talk and he made me come in every day and he made me tell him something I did the day before, which is good because I don't talk to my current teachers like that. You actually see them all day long at CDS, and I like how personal you can get with the teachers and more comfortable. I was able to talk to them as if they were my family.
I consider the visual to be easier to remember. The hands on experience, that kind of learning style I wish existed in high school. We had materials at Countryside. I really wish that we had materials like the CDS ones at my high school. I want other people to visualize, and I think they would understand it better, too.
I am thankful I went to CDS because for the experience it gave me, the visual learning, the tightly knit community. This is the basis of my great friendships, the best friends I've had come from this school. The Spanish and the math, the academic transition was amazing. The transition in itself was an experience, and I will never forget that either.
NEXT ALUMNI INTERVIEW