1. Prepare for Adolescence
Some of our children are already adolescents; others are well on their way. Last night, Laurie Ewert-Krocker's talk for Middle School Parent Education was aimed at informing and empowering parents to walk with their children down this road. The key for parents is being prepared to support the critical stage of adolescence, when the brain is radically rewiring itself, when the child's urge to make meaningful contributions outside his familiar circles intensifies, and when social-sensitivity is heightened, bringing with it great rewards as well as challenges.
2. Understand Adolescence
Mrs. Ewert-Krocker's presentation showed the Countryside community the light at the end of the oft-mischaracterized tunnel of adolescent development. There are wonderful outcomes that adolescent development yields, both during and after. But there are also social, emotional and cognitive characteristics of 12-14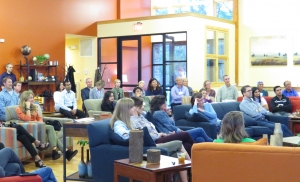 year olds that parents should be attuned to, so as to better support them as they transition through a period of life that can be confusing even for them.
3. Support Adolescence
One participant asked, "What makes Montessori worth it at the adolescent level for parents who are trying to decide whether to transition to public school or to stay in Montessori for Elementary/Middle school? What are the risks involved?"
Mrs. Ewert-Krocker's answer was unequivocal. She explained that children who stay in Montessori all the way through have an unchecked progression upward. But what Mrs. Ewert-Krocker said next was the most interesting.
She told us to listen to the nearly 250 students who have graduated from her Montessori school, many of whom have been surveyed over the past 6 years–and to consider the almost unanimous response from these Montessori alumni who say they feel more self-confident, more prepared to make meaningful contributions to the community, more adept at solving problems, more compassionate and engaged, and the list goes on.
Overall, the talk was a great contribution to an ongoing conversation that will help us walk with our adolescents down the road of their development.
Resources
Below are some of the resources that Mrs. Ewert-Krocker mentioned during her presentation, as well as a handout of the PowerPoint slides.