Transition
Alumni Perspective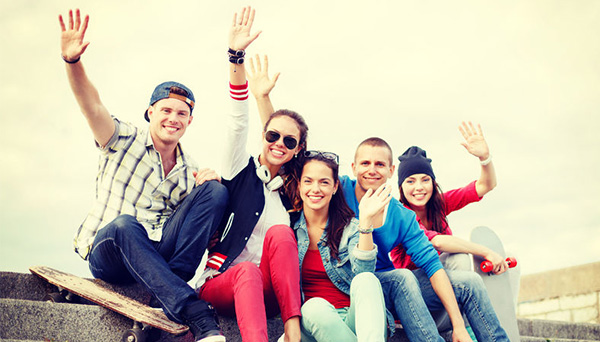 Transitions are a part of life: whether it is from high school to college, or one job to the next, or middle school to high school. The question is not how to avoid transitions, but how to handle them.
Students from Countryside share their thoughts about what it was like to move from Countryside to their subsequent schools.

How are CDS graduates transitioning to their subsequent schools?

I would say that the transition may not be completely smooth but the benefits of having attended CDS so greatly outnumber any of the downsides of that transition that it shouldn't even be a consideration. The amount of positive impact that CDS has had in my life and most of the other grads is just tremendous.
Social Transition
It was kind of hard on a maturity level. I honestly felt like a large majority of people in that setting were just disrespectful, and I felt like it was hard to connect with alot of them on many levels because I felt like they didn't respect their teachers and they didn't respect the material they were learning. Of course I did find those that did and they became my friends and I continue to be friends with some of them till this day, but I feel like there was just this wall of maturity that not many of them had passed. It made it a little bit difficult to interact with many of them.

As far as the social setting goes, don't seek out friends. The friends that are like you are going to find you because they're going to see a new kid is not going to be as a secure with their standing and with their social ability and they're going to come to you and make sure that you feel welcome. Those are the kind of people that you're going to want to associate with.
Academic Transition
In the academic setting I would say that you're going to be fine. You're going to breeze through a large majority of what's thrown at you. There were a few classes that were difficult, English maybe was one of the hardest ones, but not math and science. And the easiest was definitely Spanish because just having learned it for so long at CDS, it was just a breeze, and I was at the top of my class in Spanish. No doubt.

I would say that the transition may not be completely smooth but the benefits of having attended CDS so greatly outnumber any of the downsides of that transition that it shouldn't even be a consideration. The amount of positive impact that CDS has had in my life and most of the other grads is just tremendous.

Countryside is definitely worth it. I don't know if you take your kid out after kindergarten if they're going to remember anything. Of course, that's a strong base but I really remember most of the things from the Elementary Class. The transition is hard, but it only lasts like six months. Once you find your friends, it's fine. It was hard but you get over it. It's a good experience to have some sort of hardship transition in your life.

I am thankful because for the experience it gave me, the visual learning, the tightly knit community. This is the basis of my great friendships the best friends I've had come from this school. The Spanish and the math, the academic transition was amazing. The transition in itself was an experience and I will never forget that either.
Social Transition
It was kind of hard, to be honest, because you're going from like five people in your grade to like 300. So that was hard, seventh grade, because it seemed like everyone already knew each other. But eight grade was actually really good, I liked that year. Seventh grade not so much, and I think I was just having trouble. But the people who are willing to be your friend in seventh grade, those are the friends you should have.
Don't be afraid to talk to anyone. Don't be afraid to talk to new people. There's just so many people out there, and you are bound to find people who will accept you for you. You will find people. It's impossible not to. I thought it might have been impossible, but it's not. Don't be so shy. Don't be afraid to do what's you. Just be you.
Academic Transition
That was really easy; it was the easiest. Math was easy. I got 100% in math. I remember at CDS I was struggling with math. It was the hardest thing ever. Then when I went to my middle school, and it was just so easy. So was Spanish. That was so easy. I could have gone directly to high school from Countryside in Spanish and math.

Social Transition
When I went into 7th grade and had that shock that people were different–I was kind of freaked out–I don't know if it was the right response, but I did learn from that. I just don't want future CDS graduates to be scared. They have to be the individuals that they are and be confident. They should know that there are going to be some people like that. You can't stop everyone from being disrespectful. They just have to be confident in themselves and follow the way they've always been taught. That will carry them through life.
Academic Transition
The academics were very different. It's so advanced in Montessori. In 7th grade my math class was so easy. My Spanish class was so easy. In Spanish we were learning the alphabet, and I said, "What, I was learning that when I was five!" Montessori Alumni should be confident in their education. They should use it to their advantage, but not in a negative way. They should help others, because they are going to be advanced, and they will realize it. They should use that to help others.

It is just one of the things that I was definitely worried about…whenever you go from a private to a public school. That's the thing, though, Countryside definitely prepares you for everything you do, you're going to face, whether its academically, professionally or personally. The high point was me being fast in term of all the academics, but then the low point was not having all the friends that some people had. But then again it wasn't hard at all to make any friends.

With countryside, it's more like, "Ok, you might be able to Google to find the answer. But find out why that's the answer." So we could give you the answer but you need to also find out why that's the correct answer and why that should be the correct answer instead of just, here is the answer.

No program, no clubs, no organizations I've ever been a part of, and I've been a part of many, none of them has ever taught me anything close to what Countryside has.
Academic Transition
U of I was the best accounting school in the nation for all 5 years I was there–the class sizes were very big– a lot of workload as you can imagine. But because of Countryside it was an easy transitional period for me with the workload, being able to manage my time. Those are the biggest things that you have to be good at– that's what Countryside completely taught, so I was more than prepared.
I can understand the hesitations about [about the transition] but the benefits in this case have a much higher yield.
Social Transition
I played sports; football, baseball, wrestling and track. I was self-prepared for it. I made a ton of friends right away. But that's the kind of closure that they have there. If I had any kind of frustrations or doubts or worries Mr. Calise, Mrs. Calise, all of the staff were more than willing to talk to you if you had any kind of issues. It's just a loving environment at Countryside. It's more like a family.

Social Transition
I would say that the contributions or the things that Countryside contributed to at least my development as an individual or member of society are not worth missing because of what may not even be a tough transition.

I went from a Montessori school to another Montessori school and both were very welcoming, but also my middle school was very welcoming and it was Montessori. It was similar to the community aspect to countryside. It was a pretty smooth transition. At first I was hesitant and nervous, but I mean within even a day I was already at home there. Socially it was smooth. The first few weeks were typical I would say in that I was just trying to feel my way around and see who or what kind of people I would end up being friends with, but after like that week or two I sort of found my friends and everything went smoothly from there.
Academic Transition
Academically I was well prepared, I did well.

There's nothing that I don't think anybody couldn't overcome or anything like that. My brother did it, too. He graduated, my sister's going to do it in a year or two. In any type of school you're going to have a transition. There's no way to get around it. You can minimize it as much as you can, but there's always that transition from private to public school.
Social Transition
As long as you're social and outgoing from the beginning as much as possible, along with being in sports, it kind of really helped me during that transition period, because, like I said, a lot of my friends were from sports and those kids were in the public school system. So, coming from CDS I had a couple friends that I already knew.

I would say just try to be as social as you can– coming out of Countryside from a small private school you want a lot of people going in. Don't get too stressed out at first because it may be different, but it's not extremely different or extremely hard. You just get used it. And life  and everything changes all the time. So, just kind of transition.

I remember being really nervous because the school that I went to after North Shore Country Day has a lot more people. But after I started school, it was fine. So, for me the transition went seamlessly.

I don't know, once you leave CDS I think that they do a really good job preparing you for the next school you're going to, but it's always going to be overwhelming.
Social Transition
I was able to get to know the teachers and the people and get to choose who I would like to hang around with.
Academic Transition
I didn't really have a problem with the academic load; at first it was a bit overwhelming because there was a lot more thrown at me, but I didn't have a problem with it in a little while, I got used to it, and I got through it.

I remember it vividly. The first thing I really remember is how scary the bells were and how weird it was to sit in a desk and move around to different rooms for different subjects. The homework was so much. I think CDS is doing more of this now, giving students more homework earlier on than when I was in school, but I started to have some homework in 6th grade because the teachers really wanted us to have ease with the transition.
Social Transition
Socially it was an adjustment going to all girls from co-ed.
Academic Transition
In my school it was like maybe five hours of homework at night and that was a huge adjustment. The teachers, they were more focused on doing work than more of the learning.

You could look at it two different ways, he/she will struggle a with test taking for example if they get pulled out at a young age but when 6th and 7th grade come around and they're more important… there could be a possibility that he/she doesn't struggle. It just depends on the kid. You really don't know. Each individual is different.
Social Transition
I had no problem because I played sports so I already had all my best friends already at those schools and they were just excited for me to go to their school. I had no problem fitting in. But for some kids that just may not have the social aspect or the academic aspect, if they can't figure it out then they'll struggle