History of Countryside
Franklin C. and Annette B. Kulle founded Countryside Day School in 1967 to fulfill their vision of bringing the Montessori tradition to the northern suburbs of Chicago. Over the years, the school, its staff, programs and facilities have expanded and evolved to further its mission and better serve the students and surrounding community.
When it all began, the school had just 52 students in 4 classes with a staff of two Montessori teachers and four assistant teachers. Satellite classes were opened in Skokie in 1969 and in Northbrook in 1970. Having outgrown all of these facilities by 1971, the school purchased the property at 1985 Pfingsten Road, Northbrook, its present location.
In the early 70's, Countryside added an elementary class to the already established toddler and primary classes and an addition was built, adding an elementary classroom, a basement, and a multi-purpose room (later transformed into the gym). In 1975, the school added a gym teacher and programming.
The extended day class was developed in 1975 to provide more mature primary children the opportunity for a longer Montessori experience. In 1984, a parent-infant class for 9-18 month old children and their parents was initiated, and in 1985, an after-school care program. A before-school care program and a hot lunch program were instituted in 1987. Spanish as a second language was introduced at the elementary level in 1989 and at the primary level in 1990.
In the spring of 1993, a year-round All Year Montessori Program was added. A new addition, housing a two-story gym, four classrooms, offices, parent meeting rooms, and a basement for storage, was completed in August, 1995. Sections of the original building were re-configured to serve a larger toddler class, the Care Club, and to create a dining room in the original gym.
In 1999, major renovations were done to provide space for a new Primary All Year Montessori class. In 2001, final renovations to 2 Primary classrooms were completed.
In 2012, a Middle School program was added and, one year later, CDS purchased two adjacent properties and broke ground for a new Middle School building. Today, CDS's enrollment is at 180 students.
Countryside Day School is a non-profit organization accredited by the Independent Schools Association of the Central States.
Get the bigger picture.
Come visit our beautiful campus.
Our admissions director Karen is ready to schedule your tour and a class observation. Countryside offers open enrollment. Families can apply for admission any time of year.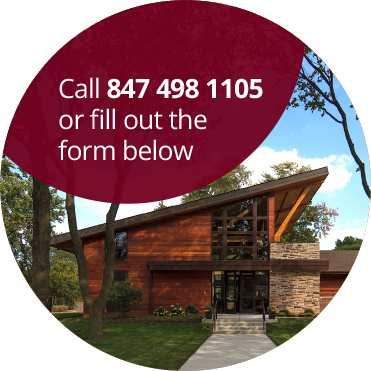 Countryside Programs
We offer a continuous program from 16 months through 8th grade — inculding an all year program option for Pre-K/K and elementary school. LEARN MORE