Montessori Pre-K / Kindergarten Programs 
Call us to schedule a school tour!
(847) 498-1105
3 – 6 years old
Half Day – 8:30 a.m. – 12 p.m.
Full Day – 8:30 a.m. – 3:15 p.m.
All Year –
7:30a.m. – 5:30p.m.
Pre-K / Kindergarten Class
Mixed age classes create an ideal environment for children to engage in academic pursuits as well as learn the critical skills of collaboration, problem solving, and creative thinking. Because they are encouraged to work independently, they build a strong sense of themselves and their enormous capabilities. Read more about academic outcomes.
Day in the life of a Pre-K / Kindergarten Student
Each day is filled with a balance of academic endeavor and completing tasks that help students understand that their contributions to the welfare of the their community are essential. Students work independently and in small groups, each following interests allow them to be fully engaged in what they are accomplishing.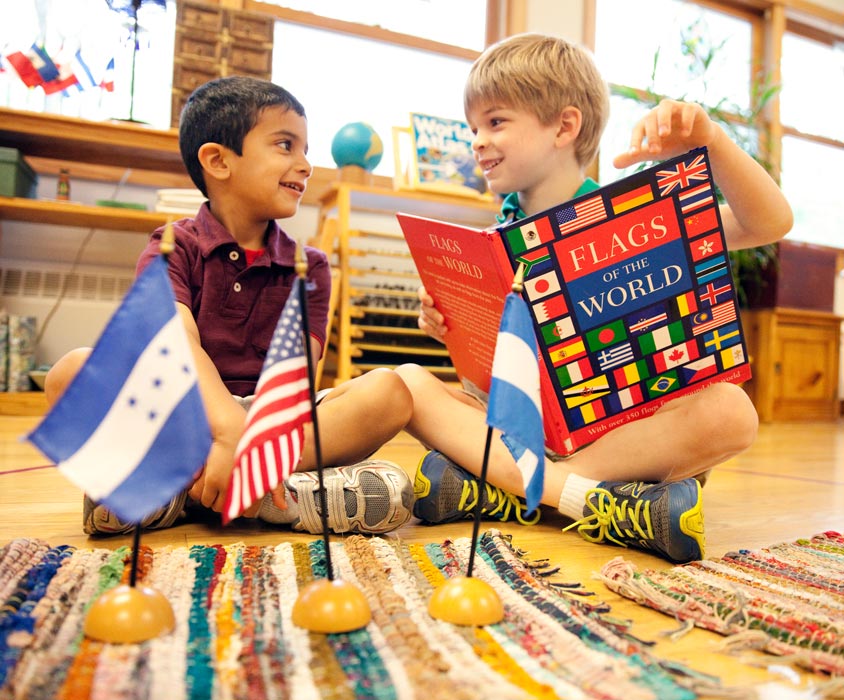 Program Details
The hallmarks of Countryside's Pre-K / Kindergarten classrooms are their order and beauty. Each classroom contains natural wooden shelves full of materials organized to aid children as they work toward their fullest potential. Each classroom bears the distinguishing marks of children and adults working together to create a beautiful environment for learning.
Children in Pre-K / Kindergarten environments work with materials designed to strengthen their fine and gross motor skills, to organize their intellects, and to expand their knowledge. Most children graduate from Pre-K / Kindergarten classrooms reading fluently and writing legibly.
Pre-K / Kindergarten curriculum includes studies in:
mathematics
language
geography
music & art
social studies
science & biology
Extended Day ProgramThe Montessori Pre-K / Kindergarten curriculum includes and typically extends well beyond traditional kindergarten programs. Children remain in the Pre-K / Kindergarten classroom at least three years, until their sixth birthday, and benefit from the cumulative effects of the Pre-K / Kindergarten curriculum. When he graduates from the Pre-K / Kindergarten classroom, each child has acquired self-confidence, internal motivation, self-discipline and a great love of learning. Countryside's Extended Day program is open to children who are no longer napping. Typically, children join the Extended Day class after their fourth birthday, but it is not unusual for teachers to invite a child to join sooner. All children in the Pre-K / Kindergarten class must begin staying until 3:15PM by the time they are 4.5 years old. They Extended Day class offers children opportunities to extend their concentration, to work cooperatively within a groups of peers, and to begin working with more advanced and detailed academic materials. Children in the Extended Day class eat lunch together in their classroom. They learn to prepare their tables using plates, cloth napkins and utensils. Each child serves himself from the school's superb hot-lunch service, or from food sent from home. Children share quiet conversation as they eat, and work together to clean the tables and dishes when the meal is complete.
A World-Class Academic Program Grounded in the Development of Character
For more information on our programs, please follow the links below: