Montessori Toddler Programs
Call us to schedule a school tour!
(847) 498-1105
16 months – 3 Years
Half Day – 8:30 a.m. – 12 p.m.
Full Day – 8:30 a.m. – 3:15 p.m.
Why should eduction start with toddlers?
At Countryside Day, we believe a world-class academic experience must begin as early as sixteen months. So why do we start so young? Toddlers are already exploring the world around them and establishing their place in it. CDS teachers encourage this natural desire of a toddler to learn, explore, and interact by giving each child individualized lessons based on her interests. Toddlers also collaborate in small groups, which help to develop their understanding of social interactions.
How does the Montessori Toddler Program promote your child's growth?
Children in the Toddler Program spend their time developing themselves in many ways:
Building their vocabularies through language work.
Growing in independence by learning to dress and bake.
Developing physical strength.
Becoming more confident by learning how to take of themselves and one another.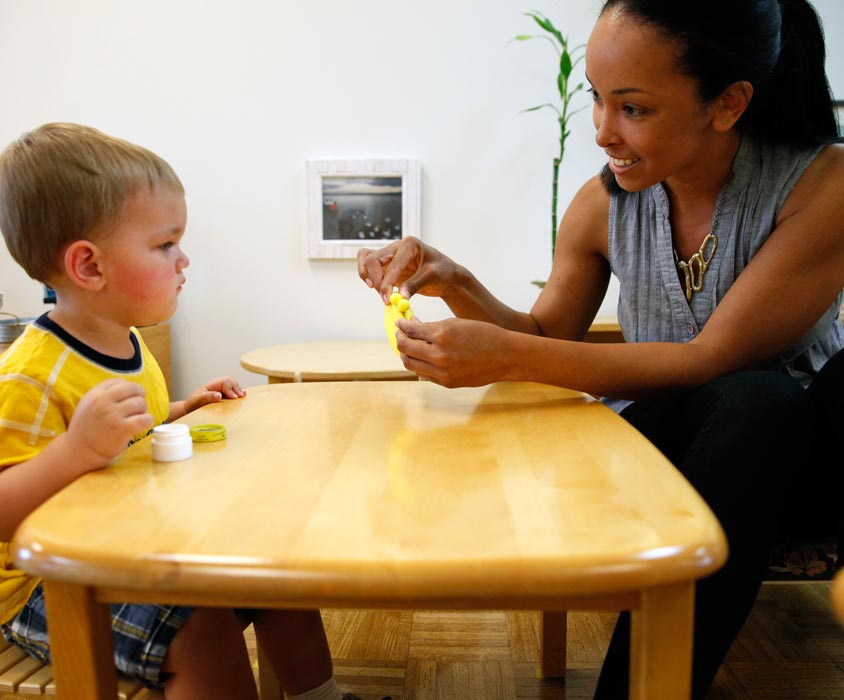 Program Details
The toddler teacher's special Montessori training prepares her to work with children under three years old, creating the best possible environment for them.
She selects all of the materials in the class to appeal specifically to such young children.
During orientation visits to the classroom, the toddler and her parents become acquainted with the teacher and the classroom.
What will your child learn in the Toddler Program?
When a toddler enters this program, she may already have learned something about getting along with other family members. However, the toddler program provides what is often her first opportunity to be with other children her own age.
In the toddler program, she will learn respect, responsibility and resourcefulness, essential skills for personal growth:
Developing independence by removing her coat and hat, hanging them up by herself.
Putting on an apron for water activities.
Opening a napkin, passing plates, preparing a snack, and cleaning up afterward.
Learning the process of toilet training. Many toddlers become toilet-trained before they leave the program.
Learning the names of her teacher and her classmates.
Learning to talk with other children about the activities of the classroom.
Growing her vocabulary to include words such as: up, down, under, over, large, small, far, near.
Learning the seasons of the year, names for foods, clothing, and animals.
Handling the materials in the classroom with care and to putting activities back on the shelves when she is finished.
Developing the patience to wait and the sensibility to share.
Using appropriate language for functioning in a group such as: "excuse me," "please," and "thank you."
A World-Class Academic Program Grounded in the Development of Character
For more information on our programs, please follow the links below: