Hear from our Alumni about the CDS difference
Our impact on students extends beyond their school years. Learn more about student outcomes and hear what our alumni have to say about the lasting value of a Countryside education.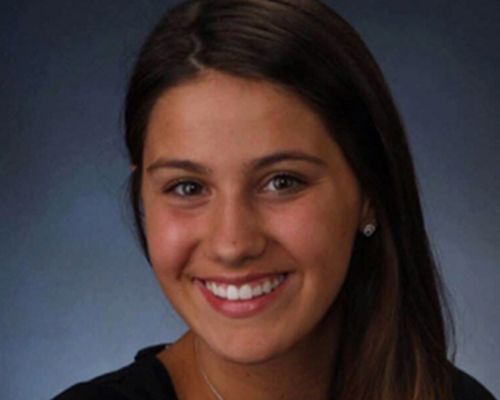 Maria Ullmann
Class of 2008
---
What are our graduates doing now?
Maria Ullmann graduated from 6th grade at CDS in 2008, having attended CDS from preschool through elementary school. She attended Deerfield High School where she took honors math, biology, chemistry and Spanish. CDS. She is now a freshman at Loyola Marymount University. Maria was accepted into a service project at college where she went to Chile to help build houses in impoverished areas.
What is important to CDS graduates?
Montessori has always been big on extracurriculars and big on helping others, and that's what I've always done in my school career and what I hope to continue to do in school and beyond. I row, and am involved in campus ministry. It's a Jesuit school. So, I go and tutor at the high school on Mondays and Wednesdays, and do a bunch of other things. On Tuesdays I go to a local center in Santa Monica and feed the homeless, serve them; there are so many opportunities… there are always more people to reach out to.
I think there is a point where people can persuade others. Yes, people are the way they are, but people can be persuaded. I'm thinking that my role is to help others on to a path of a healthy persuasion. I love service. That's my thing, my calling, and I'm just going to follow that and see if I can help.
What habits, skills, and character qualities do graduates trace directly back to their time at CDS?
I think anyone who has a Montessori background is a little different than most people. I remember going into 7th grade and saw all these kids talking back to teachers and being disrespectful. Our main focus at CDS was Respect, Responsibility, and Resourcefulness, right? It's not something we were taught directly. It was just grown in us. We knew it was the right thing. We always followed that. And going into Jr High, I was like "Wow, these kids are crazy!" Where did they go to school! It was a bit of a shock in Jr. High and High School. I realized there will be people like this and that it was my job to help other people realize what the right paths are. That was kind of my struggle in high school. I realized people were going to be like that. Now that I'm in college, I realize that most people do grow up, but some don't. But I've always been stuck on Respect, Responsibility, and Resourcefulness, and I will always carry that through my life. I know that people are the way that they are, it's in their background, but it is almost a duty I'm putting on myself that I want to further spread that Countryside teaching to other people.
At Countryside, we always had journals to record the specific times of day and lessons we've had and note what we did. So, I've always been in the habit of knowing the schedule and knowing that what I had to get done.
Parents should know their kids are going to grow tremendously in that small period of time, and when they come out of Montessori into the real world, they're going to use what they learned. I think everyone from Montessori really applies themselves; it's just naturally what we [Montessori graduates] do.
I'm so thankful I went to CDS because that's where my life began. It's where everything I've learned and continued–the service aspect, the academics–everything in my life. I'm completely into service. I wouldn't have known about helping others if I hadn't had service projects; that really opened my eyes to the real world. That's how certain people live; you can always do something to help them. Academically–with Spanish–we learned Spanish when we were two. It was just taught to us, and I have communicated with so many different people, that I didn't even realize that I had the ability to do that, and that it's just naturally a part of me as an individual, and it's all aspects of Montessori's power. That's where it all began.
How does the CDS Mission (Respect, Responsibility and Resourcefulness) still guide its graduates?
Respect has always been important to me because I think if you have respect for something then everything else will pan out; if you are respectful to teachers, you will have the same reaction that you're giving. If you respect yourself, your peers, other people, that's all that people want. In the workforce especially, if you can't respect your job, your boss, it's not going to get you anywhere. Respect is definitely one of the biggest Rs.
What defines the CDS experience?
At Countryside, the 6th graders have service projects. So, mine in 6th grade was going to a soup kitchen in downtown Chicago. That was the first time I've ever been exposed to that kind of world, a whole different world. We would serve lunch to anyone who came in, homeless, or didn't have money to pay for food; I was in 6th grade; I didn't understand fully–much about that world. Then in high school I always wanted to do more, and so I went annually to Costa Rica and built houses in San Jose; and that was a whole other experience. You deal more with homelessness and poverty and the thought that, "Wow, people are actually living here." You don't realize this is actually happening until you see it. I saw it and actually, just recently, I got back from Chile. In Chile, it was more about social justice. We went to soup kitchens in Santiago to feed the homeless during the day and visited a bunch of different shelters. I've always been interested in poverty and homelessness. I didn't realize that poverty is just not having money, but also being abandoned and not cared about. I saw a whole different side of poverty in Chile. I think that's what everyone should do. The desire to do these things all started in Montessori.
NEXT ALUMNI INTERVIEW