What an inspiring 2 days it was when Pat Bassett visited our school for observation and consultation!

Who is Pat?
Pat Bassett is a long-time educator, administrator and former president of NAIS.
I think that there are many occasions in Pat's life when he is likely the smartest guy in the room, yet he clearly sees every interaction as an opportunity to learn. What I most admire personally in Pat Bassett is the depth of his knowledge, his ability to accomplish an enormous amount in a short time, and his honest sense of humility.
They don't call him the Steve Jobs of the independent school world for nothing. He really lit a fire in the CDS community!

What Did Pat Do at CDS?
He spent one day in the school community

visiting every class
meeting with faculty
meeting with parents
meeting with students
meeting with the admin team

He gave a dynamic presentation to our parent community on the 6 Big Shifts in Education.
He guided our staff through some reflective work on examining our strengths and considering possible changes related to the 6 Big Shifts and the 6 Cs.
He conducted an hour of board training with our board members.
And he discussed the most current thinking about 21st century strategic planning in schools.
What Did We Learn from Pat?

Digesting all of the ways the 6 shifts in education apply to CDS will take months. For now, let me show how 3 of the educational shifts are already present and even increasing at CDS.
A Shift From Knowing to Doing
If you have spent even ten minutes in any of our classrooms, from Toddler to Middle School, you know that doing is what a CDS education is made of. On any given day you will find students

learning fractions for a recipe,
learning to count by setting the table,
learning about effective management as the chairperson overseeing childcare for all parent education events,
or learning about accounting by being the head accountant for Middle School mirco-businesses.
The students at Countryside learn by doing. It is real.
From the Individual to the Team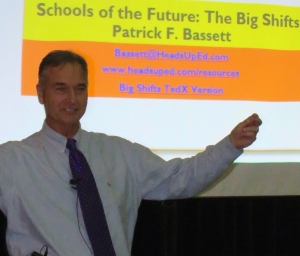 We have all seen the shift in employers relying much more on strong communication skills, collaborative work, and creative thinking. Again, a visit to our classrooms speaks much louder than words. Children are constantly involved in group work. The student-teacher ratio is high, allowing students a constant opportunity to work things out for themselves, to seek counsel and knowledge from one another, and to navigate social challenges in a safe environment–in short, to get ready for the world.
Consumption of Information versus Construction of Meaning
Pat lit a fire not only by celebrating what CDS already does well: he also helped us to think about how to be even more effective.
As much as we are already doing to tie learning to real experiences, we still fall prey to the overwhelming pressures of standard curriculum. And to a certain degree, this is necessary. CDS faculty have a deep commitment to ensuring that your children learn the academic content that is expected for their age. But, we are equally committed to helping students build that content in a way that is meaningful. Becoming even more effective in this area is a priority of our staff.
What a privilege it was to have Pat Bassett at Countryside!
CDS Community: What were your take-aways from Pat's visit? Share your thoughts below!